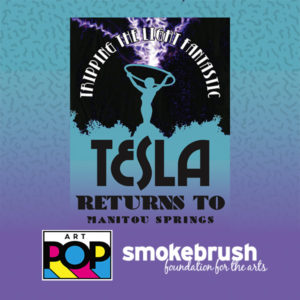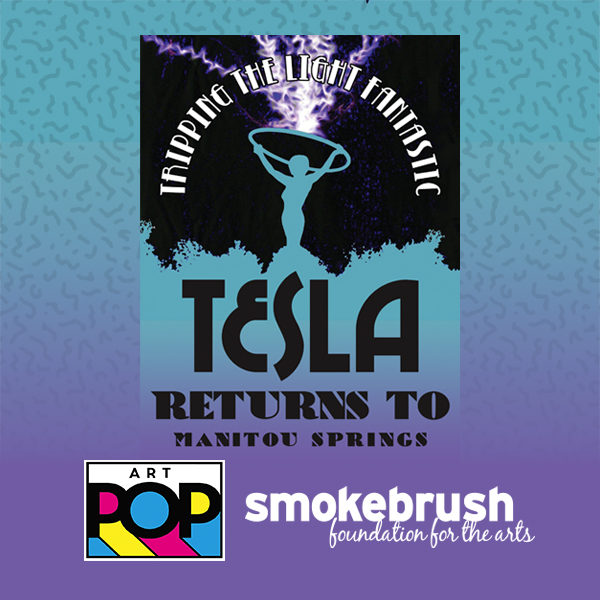 ArtPOP 2017 | Tripping the Light Fantastic: Tesla returns to Manitou! 
Tripping the Light Fantastic: Tesla Returns to Manitou
A film and musicasurreal. 
Performances by Kat & Bob Tudor, Crystal Bliss, Georgiy Dmitriev and Ella Goodine Richardson. Explore a mixed-media piece of live music, projections, and dance. 
Date: Sunday, October 22, 2017
Time: 6:00-7:00PM
Part of ArtPOP2017! and October Arts Month
Price: Free
Location:  Performed on the upper decks of SunWater Spa, viewed from Manitou Springs Memorial Park – across the street. 
Bring your own seating, blankets, chairs, jackets!

Facebook Event: https://www.facebook.com/events/1821822814797205/
#ARTPOP2017

 


http://www.pikespeakartscouncil.org/
https://www.culturaloffice.org/

 
ArtPOP 2017! is an eclectic collection of 20 all-ages, free, pop-up arts events across diverse locations throughout the Pikes Peak region! This Arts Month, the Pikes Peak Arts Council and the Cultural Office of the Pikes Peak Region invite you to explore the incredible talent of over 70 regional artists of all disciplines in geographically diverse locations across six ZIP codes. Enjoy specialty performance, workshops, literature, music, theatre, dance, film, installations, visual art exhibits, sculpture, photography, printing, and SO MUCH more — all fascinating local work.
Art is everywhere, and engrained in the fabric of our lives. This October, art meets you where you are, bringing vibrancy to everyday life and showcasing the indelible talent of the Pikes Peak artistic community. Enhance your life with a memorable, impactful arts experience — then learn about new ways to connect to other local arts performances and exhibitions!
Details on all 20 performances at: PeakRadar.com/categories/ArtPOP