09 Aug

•Join us on August 18th for Honey in the Heart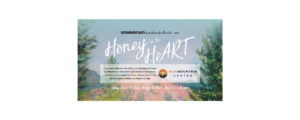 Honey in the Heart
Friday, August 18th from 5 to 8 pm
at SunMountain Center
328 El Paso Blvd, Manitou Springs, CO
Free to the public
Please consider alternative transportation as there is very limited parking available. Bicycling, walking, or public transportation recommended.
Come to SunMountain Center for August 2017's Third Friday Art Walk.
Meet and greet the artists, tour the historic homes and biodynamic farm.
Please join us for music, art, and farm-to-table hors d'ouevres as Smokebrush Foundation welcomes the community to our newest project, 'Living Arts at SunMountain Center', providing opportunities for Artists-in-Residence, Cultural Arts, Community Youth and Adult Arts workshops, and more.
Featuring hors d'oeuvres from the SunMountain Center biodynamic farm by chef Jeff Jepsen
Live music provided by Crystal & The Curious featuring Bob Tudor and his one-man band, Ryan Flores and Benjamin Pratt
The evening's artists: Missye Bonds, Lance Green, Kat & Bob Tudor, Jana Kaiser, Ken & Tina Riesterer, Maggie Quinn, and Holly Parker
Some of the proceeds from the night's art sales will be used to support 
Strawberry Fields, Save Cheyenne and Smokebrush Foundation for the Arts. 
sunwellness.net
smokebrush.org